Providing an evidence base for Home and Living decisions – A survey of occupational therapists
---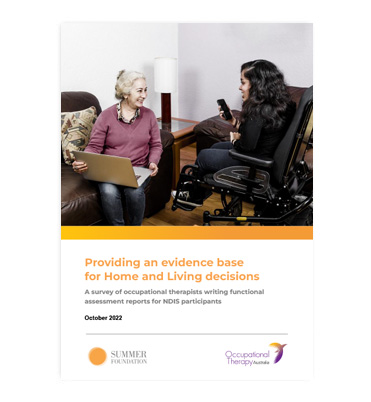 October 2022

Providing an evidence base for Home and Living decisions – A survey of occupational therapists
Tags: disability support, NDIS participant, occupational therapist, Specialist Disability Accommodation (SDA)
Description:
The Summer Foundation and Occupational Therapy Australia conducted a survey in July 2022 to explore the role of OTs in helping NDIS participants request SDA funding. The aim was to understand the functional assessment and report-writing process from the OT perspective and provide actionable insights to the NDIA.

Key Findings include:
Clear, concise and rigorous OT reports have the potential to help NDIS participants with the highest levels of needs secure adequate funding for housing and support, including funding for specialist disability accommodation (SDA)
However, there is currently very limited information about what evidence the NDIA needs from OT reports to make informed, timely and accurate decisions.
Occupational therapists need to know what the NDIA thinks a 'good' functional assessment report looks like to help NDIS participants provide evidence for Home and Living decisions.
Citation:
Winkler, D., D'Cruz, K., Minter, E., Mulherin, P. (2022). Providing an evidence base for Home and Living decisions: A survey of occupational therapists writing functional assessment reports for NDIS participants. Summer Foundation.